Paul Tolley, Warwickshire CAVA Chief Executive explains why he is going one step further for YMCA Coventry and Warwickshire.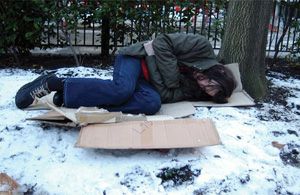 I have accepted this challenge and I am fundraising for YMCA Coventry and Warwickshire by taking part in 'Sleep Easy 2017'. The event helps to raise awareness of rough sleeping & raise money for young, homeless people in the local area and I am taking part to better understand what it is like to be out in the cold! 
 
So I will be braving the cold for one night, sleeping in a cardboard box between 7pm on Friday 3rd March to 7am the next day. I will make my 'bed' for the night in the stadium at Coventry Rugby Club. 
 
But why this cause? We at Warwickshire CAVA support every group, organisation and charity that we can so some may ask why am I supporting this one in particular? A fair enough question and I suppose, reflecting upon it, there are in fact two answers. The first (and more thoughtful answer) is that at a time when the statutory services and voluntary support available to the most vulnerable people in our society are all under immense pressure and at breaking point, more and more people are at risk of homelessness. Once you lose your accommodation, you also lose your identity. For me if we can't keep a roof over a person's head then we have failed as a society to look after each other.
The second answer is more simple: Because I was asked.
For me that is an indication of the willingness of volunteers and the power of volunteering - more often than not, if you have a clear request for someone whom you know to have empathy, understanding or a shared passion for your cause, then the answer will be 'yes'.
YMCA Coventry and Warwickshire support local young people with accommodation, advice, guidance & training to help build a better future. I would be deeply honoured and very grateful if you would please support me by sponsoring what you can. I am hoping that my one night out in the cold will raise £1000 for YMCA Coventry and Warwickshire.
​Paul's fundraising page can be found at: ​
​
​BT MyDonate is a free, not-for profit service. They don't charge their charities any fees beyond those charged by a donor's debit/credit card company so on average they'll receive 63p more per £10 donation.
Site categories:
Children & Youth
Housing & Accommodation
Sector News
Volunteering
WCAVA News