Submitted by

Warwickshire CAVA

on
Our very own ConnectWELL Senior Link Worker Jackie Skipp reflects on lockdown in Rugby from the point of view of a social prescribing worker in the voluntary sector.
Jackie is Link Worker Champion for Coventry and Warwickshire as part of her role as Senior Link Worker for Rugby PCN. Link workers support patients to access activities and support that will help them, often alongside medical treatment.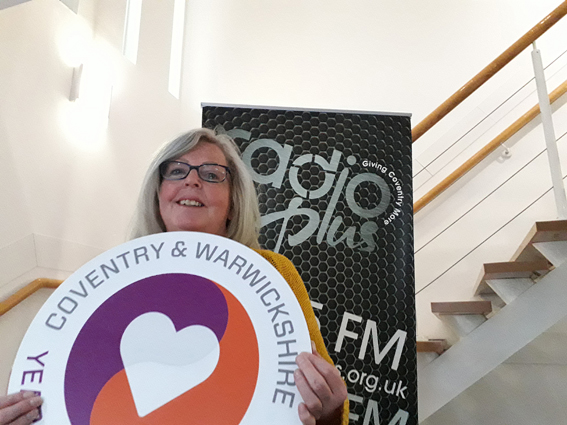 The Way Forward From Lockdown - Rainy Days Or Sunshine?
For Social Prescribing Link Workers across the nation lockdown has, I believe, been a universally challenging period filled with previously unknown issues, and vastly reduced resources. Along with the rest of the country, we have been sailing into uncharted territory, having to adapt rapidly to new methods of working, help-networks and terminology, often finding ourselves the lynch-pin to averting potentially disastrous situations many of our patients have found themselves facing. Add to this the fact that many Link Workers were new in post at this time, trying to find their feet in a situation vastly different to the one they were prepared for, I think we can be rightly proud of how Link Workers are braving this particular storm. Thank goodness for the  invaluable advice, informative webinars and crucial connection to other Link Workers provided by the NHSE regional Social Prescribing Peer Support!
Whilst Link Workers across the country have different operational situations - some based within Primary Care Networks (PCNs), others working for infrastructure or other Voluntary Community Service Organisations (VCSOs), and while some will have faced different challenges to others, I'm sure we all shared common dilemmas:
VCSOs have been disappearing by the day, and the constant, time-consuming trawl round to keep up-to-date with who is still around and who is not, who have adapted their current remit of services to online or virtual operation, or have limited facilities available, so often getting no answer or an ambiguous voicemail message leaving you no better informed is very frustrating. These little groups leave a big dent in a lot of people's lives if they close, and can be some patients' absolute lifeline. Support for them is crucial.

The springing up of a multitude of help-networks almost overnight: local COVID Support Groups, GOODSAM, Shielding and other hubs, bringing with them the need to understand the roles and procedures of each in order to make informed decisions about signposting or referring patients. Understanding also the new terminology and what benefits it affords to patients. "Shielded": Ah yes, 'EXTREMELY clinically vulnerable', rather than just clinically vulnerable - entitled to Government-arranged delivery of food parcels and prescriptions if wanted, in addition to the  referral to voluntary groups and GoodSam for help. Not helped by many patients who are chronically ill being convinced they should be on the shielding list - necessitating a call back to their surgeries who we are resolutely trying to protect from any extra work.

Working from home. What could be so hard? And yet, our team found it challenging at first for a whole variety of reasons - establishing new routines, the lack of easy access to a whole variety of office machinery and resources, missing face-to-face contact with colleagues and patients alike. But we adapted and it has for now become our new norm.
So what happens next as lockdown eases and gradually the country moves towards a new normality? Will the coming months, with their fluid Government plan be easier or harder than the sudden shock Coronavirus dealt us back in March? The truth is, it is difficult to tell. 
There are many advantages to where we are now. We understand how deadly this virus can be, and how best to protect people from it. We have a schedule of restrictions being lifted and we are fully conversant with all the new agencies that have come into being. We have gained experience we never expected to gain, and have learned to adapt in order to do the best we possibly can for our patients and our PCNs.
However, there are no certainties going forward. The planned re-opening of all services and facilities can be stopped at any time and lockdown reinstated. We will, in any case, need to closely monitor when some of our previous VCSOs feel able to open their doors again, and when new activities spring up. Imagine how much harder this will be if the 'R' level rises and falls over the coming months, forcing a stop-start effect in our voluntary communities. 
We should also remember that the past months may have been extremely traumatic for many of our patients, leaving them more frightened and fragile, and mental health issues will almost certainly become far more prevalent. In some cases, physical health may well be affected as confinement leads to lack of exercise and boredom or depression causes poor choice of diet. We are likely to be dealing with more complex cases and a greater proportion of patients with both physical and mental health issues.
Given all of the above, personally I feel very optimistic about the challenges ahead. Despite the feeling of threat the virus poses (or maybe because of it?), I feel that anything is possible now. The world has changed and it feels as though nothing is set in stone the way things often were - hopefully far fewer brick walls to come up against. My hope is that strict remits will turn to flexibility, there will be less duplication and more 'can do' attitudes towards problems and things that we struggled to do before will become simpler.
I see Link Workers becoming increasingly integral in their surgeries and their communities; being out and about more, looking for ways to bridge gaps in provision, promoting health and wellbeing, assisting initiatives aimed at encouraging the use of IT to those whose lack of ability to use technology made their lockdown more isolated...making a difference like never before.
There are undoubtedly some positives to come out of this crisis and to me one of the very best is that we appreciate the little things more as well as the biggest - from having our friends and family alive to being able to walk in a field or a park with friends. Let's take that feeling of positivity back into our surgeries and spread it to our patients!
Site categories:
Community News
ConnectWELL
Coronavirus
COVID-19
COVID-19 North Warwickshire
COVID-19 Nuneaton & Bedworth
COVID-19 Rugby
COVID-19 Stratford
COVID-19 Warwick District
Health
Mental Health
WCAVA News