Join over 800 organisations across Warwickshire on Warwickshire CAVA's Volunteer Connect service
Volunteer Connect is an online brokerage service accessible via Warwickshire CAVA's new website. It is an automated matching service that offers a fast and free route to recruiting volunteers.
Why it is different
Volunteer Connect offers individuals interested in volunteering the opportunity to join a volunteer bank. For every role you upload, Volunteer Connect will automatically search the volunteer bank for individuals interested in the type of volunteering role you are promoting. Organisations can view volunteer profiles and contact individuals. This means a faster, more streamlined matching service - at your fingertips.
Once registered, organisations can input and manage their own profile and roles, or ask Warwickshire CAVA to do it. Additionally, organisations can benefit from a wide variety of support – visit the 'volunteering for organisations' page for more information.
Please note: Individuals who register on Volunteer Connect are not vetted or DBS checked by Warwickshire CAVA. You will need to follow your organisation's volunteer recruitment and safeguarding procedures to ensure that the volunteers you recruit are right for the role.  If you need any advice on how to do this, visit our Volunteering Resource Library for good practice guidance, or contact your local Volunteering Coordinator.
> Register
> Log in
> Volunteer Connect Service Level Agreement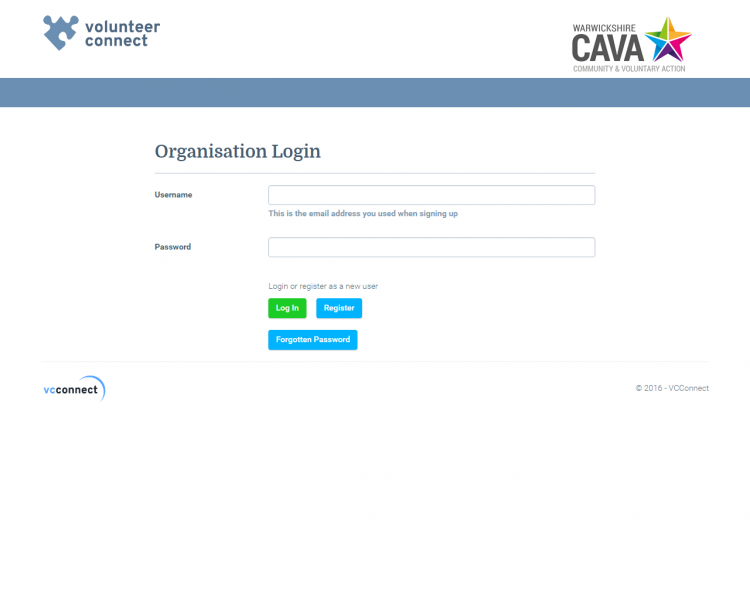 Recruiting Volunteers
Whether you want to recruit volunteers for the first time, develop and promote new roles, get support with managing volunteers, or access best practice resources, we can offer support tailored to your organisation's needs.
> Recruit volunteers
> Support for your volunteer programme
> Warwickshire Volunteering Forum
> Inclusive volunteering
For more information or to arrange a meeting, contact your local CAVA Volunteering Coordinator.